I picked Stavro up from his neuter about an hour ago, and the vet warned me there was "some swelling". I've never heard such an understatement in my life - his scrotum is larger than it was when he was intact! The swelling is as large as my fist, tight, and there is some dark red bruising on the light patches of skin (most of the skin on his scrotum is black, so it's hard to tell). It isn't hot and he's not licking at it. He has been fairly quiet, but he keeps wagging his tail and hitting it.
The vet told me to ice it tonight, which I haven't yet been able to do (we are out of ice and my car won't start). My husband is supposed to bring some home, but if he doesn't get here within the next half hour or so, I'll probably sacrifice a bag of frozen veggies for the cause.
Here's a photo with my fist for a size reference. My hand was closer to the camera than his danglies were, so the photo is a little bit misleading - the swelling is actually a bit larger than my hand.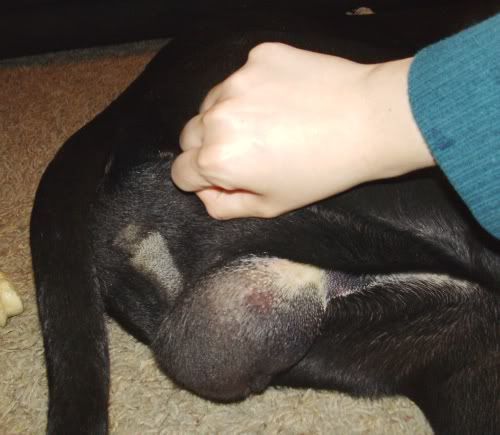 The only other male I've owned came neutered, so I have no experience here. Stavro turned two last week, so I'm guessing that his age makes this a little worse. How much swelling is normal and how quickly might I expect it to go down? How often should I ice it, and for what amount of time?